Taxis & Transportation Network Companies
Taxis, Uber & Lyft
There is a good chance that your community has a local taxi service. Taxis can be another helpful transportation option.
Transportation Network Companies (TNCs) such as Lyft and Uber pair passengers with drivers who provide transportation in the driver's non-commercial vehicle via websites and mobile apps.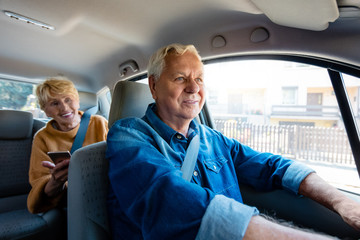 Concierge Services
If you are not comfortable with using phone apps to access Lyft and Uber, consider using a concierge service such as Go Go Grandparent and EZ Ryde4Life. These services will help you in scheduling rides through Uber & Lyft, as well as other door-to-door services such as delivery of groceries, meals, and more.
Go Go Grandparent can be found here and reached at 1 (855)464-6872 ext. 60117.
Ryde4Life can be found here and reached at (201)473-2859 ext. 4.